Shipping and Pallet Delivery to Romania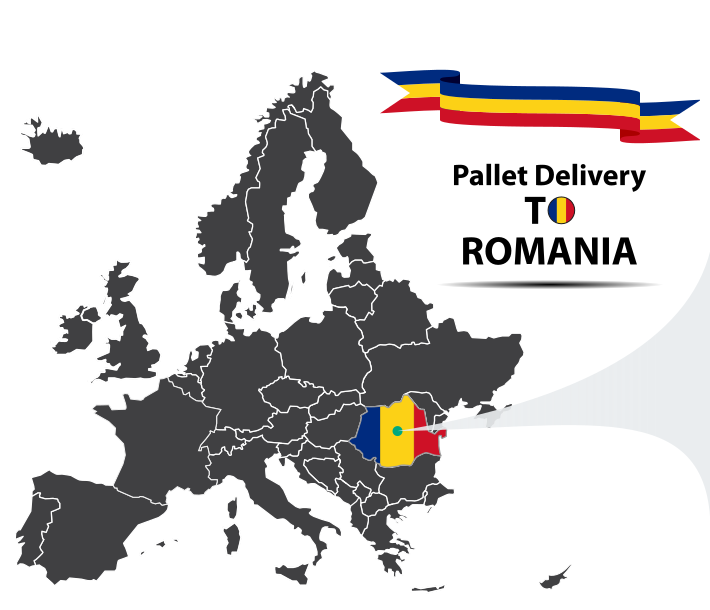 Pallet2ship offers the following pallet & parcel delivery services to Romania:
By road
Express pallet delivery
Economy pallet delivery
Economy parcel delivery
By Air
Express pallet delivery
Express parcel delivery
What you need to know about our pallet services to Romania:
We accept shipments of any weight and dimensions
All deliveries to Romania are door-to-door!
Send from a small parcel to lorry loads, we will accommodate:

Small & large or bulky parcels
Single & multiple pallets
Oversized/custom pallets
Part & full lorry loads (minimum 8 pallets/up to 26 pallets)
Optional insurance is available through the website.
Most services are fully trackable, for services both to and from Romania.
Both business and private individuals can send a pallet to any address in Romania.
We work with only the largest and most trusted freight providers in the UK.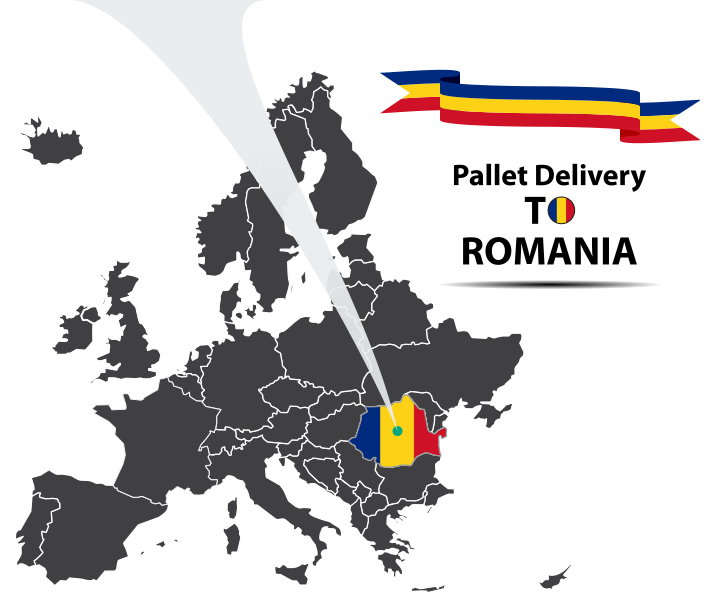 See what our customers say below about our services to Romania
How much does it cost to send a pallet to Romania ?
| Pallet type | Export to Romania* | Import from Romania* |
| --- | --- | --- |
| Mini Quarter | from £153.08 +VAT | from £163.05 +VAT |
| Quarter | from £159.47 +VAT | from £191.14 +VAT |
| Half | from £190.64 +VAT | from £240.96 +VAT |
| Full Lite | from £204.36 +VAT | from £290.20 +VAT |
| Full | from £238.03 +VAT | from £329.86 +VAT |
* Please be advised these are just price examples as we do offer many parcel and pallet delivery services to and from Romania. For the best option for you please use the Quote & Book system above in order to obtain instant quotes.
About Our Pallet Delivery to Romania
We regularly arrange pallet delivery to Romania and offer competitive prices to all our customers, whether they are sending a one-off shipment or are booking a regular consignment. We collect from throughout the UK and obtaining a quote for your shipping to Romania is simply a few clicks away, or you can call our experienced team. We only need to know the point of origin, destination and the number of pallets you are sending. You can use our track and trace system to follow your goods on their journey and we always use the most trusted worldwide carriers to give you complete peace of mind. Pallet2Ship does not restrict services or carriers to our customers, meaning that unlike our competitors we work with multiple carriers to offer a diverse range of services which means you the customer, have the most flexibility, to more destinations at the lowest prices!
The 7th most populated country inside the European Union, Romania enjoys one of the lowest unemployment rates in Europe and in 2017 had the highest annual economic growth rate within the EU. Particularly known for automobile manufacturing, Dacia is Romania's largest manufacturing company, also Ford have operated in the country since 1935 and produce up to 300,000 cars per year.
Bucharest, Romania's capital and largest city is the sixth largest city in the EU by population inside the city limits. In the early 20th century, the city's sophisticated architecture earned it the nickname of "Little Paris" and many of these buildings still stand today, such as the Central University Library, the Triumphal Arch and the Palace of the Parliament, the heaviest building in the world.
Pallet2Ship's trusted carriers deliver parcel and pallets to all regions of Romania, be it Timisoara in the west, Bucharest in the south or the beach destinations to the east, Pallet2Ship has the knowledge and experience needed to send your parcel or pallet to Romania.
Frequently asked questions about pallet delivery to Romania
How quickly can Pallet2Ship deliver to Romania?
Pallet2Ship offer services as quick as next working day for items under 300kg, but also offer slower economy service, so there's a service to suit every job. Please click on the red "I" Icon at the quotation stage for detailed information on each service.
How do I have to pack my pallet when shipping to Romania?
All goods must be placed on secure pallets that are suitable for mechanical handling. Either strapping or shrink wrap may be used to secure the goods down to the pallet and we suggest protective material where possible. For an in-depth guide, please visit our Packaging advice page.
What can I ship to Romania?
We ship a wide range of goods such as car parts, printed material, personal goods tools, ambient food items and many more. For restricted items, please visit our Prohibited items page.
What documents are required to ship a pallet to Romania?
You do not need any special documentation as Romania is member of the European Union.
Can I ship from Romania to the UK?
Yes, Pallet2Ship is happy to offer import pallet services from Romania to the UK and these can be obtained instantly from our homepage.
NOW CLICK HERE
to see just how much you can save !
Other popular destinations in Europe:
Questions? We're here to help.
Email office@pallet2ship.co.uk
or call 0044 (0) 1753 206 703