Packing Boxes & Oversized Pallet Delivery Services And Advice
How to prepare a pallet
The insurance we offer is only valid if your goods are suitable to withstand the normal rigours of transit - which might include shipping by road, rail, air or sea.
Generally, insurers are happy with professional packing by a specialist company or manufacturers' packing on new items.
If you are packing the goods yourself, you should:
Use a sturdy corrugated cardboard box for large or multiple items.
Individually wrap items within the box with protective cushioning to absorb any impact during transit.
Pack the item with foam, polystyrene, newspaper, bubble wrap or other similar protective packaging.
Ensure that the item is secure and can't move around within the box.
Overfill the box to account for any shifting or settling during transit if you are using foam or polystyrene peanuts.
Use a well padded envelope for smaller items.
Seal the package with parcel tape at least three inches wide. (It's more hardwearing and better than masking tape, sticky tape or string).
Clearly label the package with the recipient's full address, and include a return address.
Cover any sharp or protruding edges of irregularly shaped items with padding or corrugated cardboard. Make sure the label is also well-attached to the item.
Pack rolled goods, such as fabric or wallpaper, in corrugated boxes.
The guide below is for packaging pallets
Ensure the pallet you are using is of good quality and sturdy, some countries require heat treated pallets, please call us to confirm before packaging your goods.
Package the items you wish to transport in heavy duty cardboard boxes for shipping, these can be identified by the number of ply (Triple ply would be the best)
Arrange the boxes on the pallet, try to keep the height on each level the same and all items within the footprint of the pallet.
Keep the heavier items on the base, this will lower the centre of gravity and maintain balance.
Delicate items should be packaged towards the centre of the pallet.
Once all of the items have been packaged on the pallet you will begin the shrinkwrap process.
Begin by tying a knot in one corner of the pallet base and start walking and wrapping the pallet base 3 times over before you start moving upwards.
Ensure the shrinkwrap is taught as you walk.
Finally cap off the pallet with shrinkwrap and attatch the label.
If your pallet will be travelling via Sea Freight, you can would be best to buy a shipping carton which is a pre-built wooden box to affix onto a pallet base.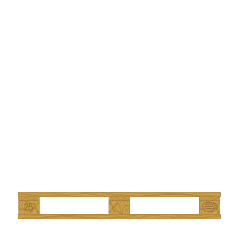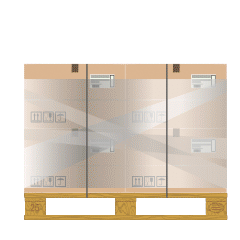 A correctly loaded pallet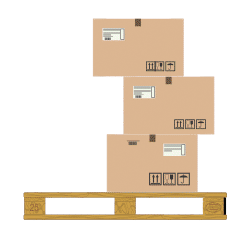 An incorrectly loaded pallet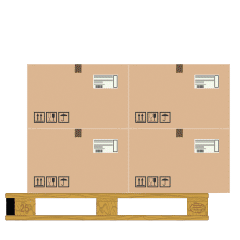 Goods should NOT overhang
Please note, these tips are general guidelines only and we can't be held responsible if your goods are damaged as a result of unsuitable packaging.